Provide Personal info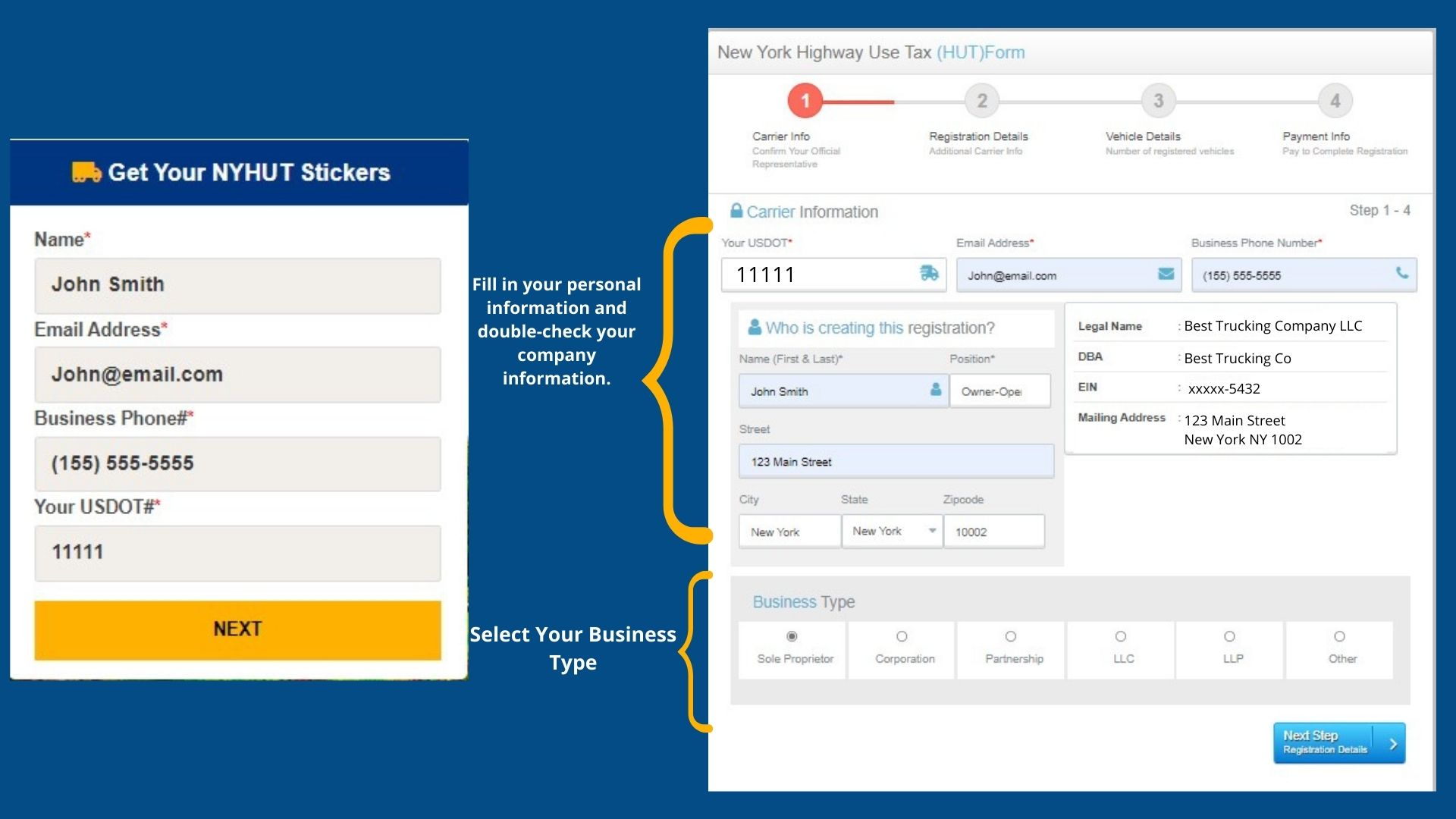 Obtaining your NYHUT Tax Permits has never been easier. With New York Highway Use Tax, our smart forms do all the hard work. You just have to input a few bits of information and confirm that our forms have auto-filled the rest correctly. Most people fill out our forms in less than fifteen minutes.
The first step is to input the information of the person filling out the form on our home page. As soon as you click the NEXT button, you will be directed to our smart forms. We will search for your company information using your inputed DOT number. That way, you're not wasting time filling out forms. We do all the hard work for you. Just verify that the information is correct and update any additional personal information. Once you select the business type at the bottom, you can proceed to the next step.
Input Company and Truck Information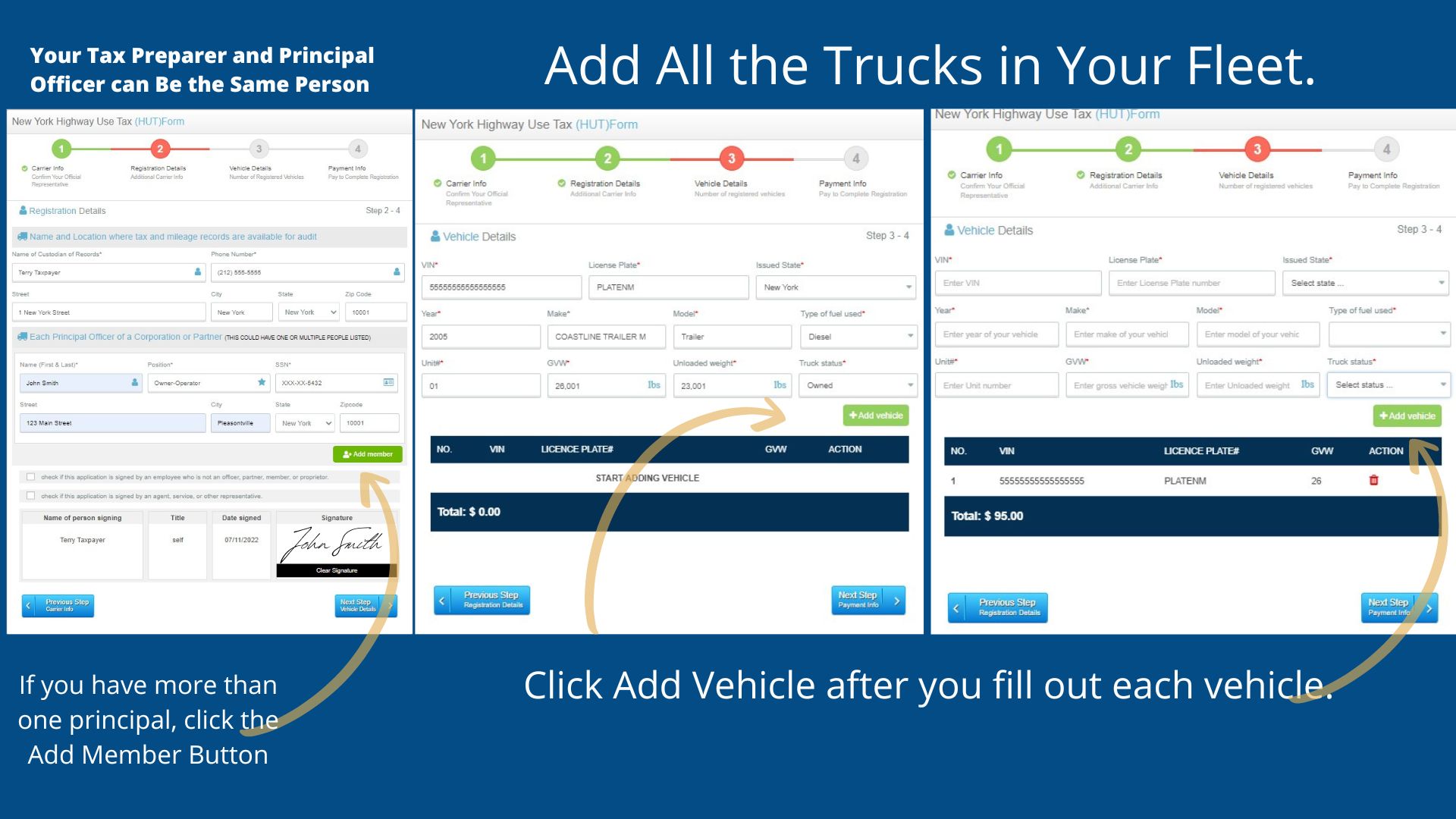 The next two forms are all about your company and your truck. New York state officials need to know all about the people who run your company and take care of your company. This includes the name of the person or company who handles your tax miles. To satisfy the New York Highway Use Tax, drivers need to log and save their miles. The Custodian of Records is the person who saves these miles.
Additionally, you will need to input every one of your principal officers. If you're an owner-operator, just input your information. However, if you have more than one person, select ADD Member to include any additional members.
New York officials also need to know all about the truck(s) that you're driving in New York. Please input information for every truck in your fleet and then select ADD VEHICLE to include it in the list. There needs to be at least one vehicle on the list before you can proceed to the next step. You can add as many as you need before you progress.
Approve and Pay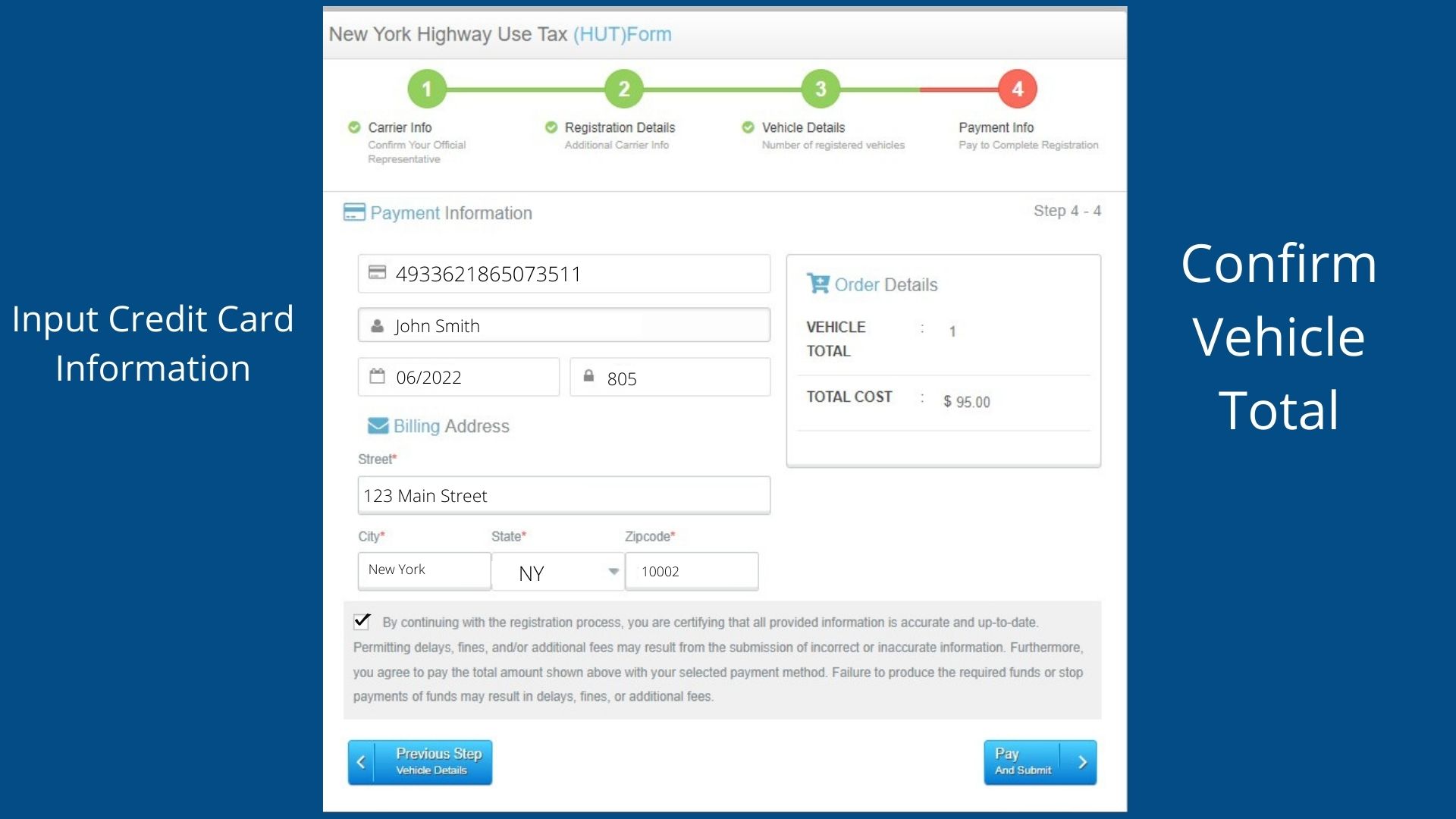 Once you find yourself on this page, you're almost done. Check out the vehicle total and make sure every truck in your fleet is accounted for. The price of the tax permit depends on the number of vehicles in your fleet. After you confirm that everything is correct, input your credit card information and pay.
As soon as you select PAY and SUBMIT, your information will be submitted to our tax permit professionals. Our team will verify your information, confirm that everything looks proper, and organize it so it will satisfy all the state requirements. Once we approve your application, we will submit it to the state. Official approval can take 1-3 business days. Once you are approved by the state, a PDF of your official permit will be emailed directly to you. Save it on your phone or print it out to keep it in your truck. As soon as you have possession of that PDF, you are free to travel across the beautiful state of New York. Soon after, you will receive your NYHUT sticker decals at your mailing address. And just like that, you're all set up with the New York State Highway Use Tax. Congratulations, and we'll see you on the road.